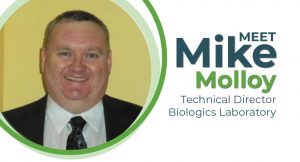 Mike has been with Boston Analytical since 2012 and oversees the Biological Macromolecules Laboratory as the Technical Director. In Addition, Mike has had previous experience managing our Analytical Development and QC Chemistry Laboratories. He notably holds a master's degree in biology from Umass Lowell and a bachelor's in biology from UNH.
One of the programs that the Biological Macromolecules Laboratory is supporting is product release and stability of a peptide conjugate product with purity and potency tests, this one is a binding ELISA potency test. The identification and purity are done by capillary electrophoresis. With Mike leading the way, we're also now validating assays for product release for a hormone product that includes structural characterization by peptide mapping via chromatography along with ELISA for impurities and a luciferase-label, cell-based potency assay. We also have projects involving the development of a FRET system to measure potency of an enzyme based on the enzymes specific mechanism of action.
It is easy to say that we have a lot going on in the Biological Macromolecules Laboratory and are thrilled to have Mike who is an incredible asset to the BA team, leading the way! He stands alongside so many other talented individuals in the BA Lab and we are looking forward to the many projects that will be seen through in the Biologics Laboratory under his leadership. For interest in the many testing services Boston Analytical offers, click here.