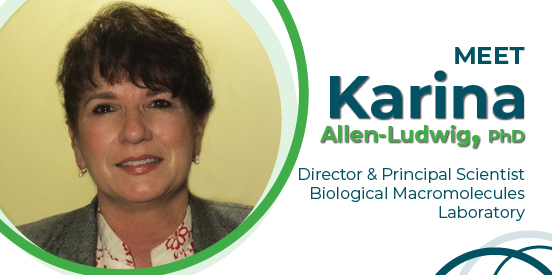 Karina has been with Boston Analytical since 2017 and is the Director and Principal Scientist in the Biological Macromolecules Laboratory. In addition, Karina has had previous experience researching and developing methods in our Analytical Development Laboratory. She holds a PhD from Umass Lowell in Chemistry, with a focus on Biochemistry.  Her research focused on the ab initio development of a novel synthetic FRET (Förester Energy Transfer) for the detection of endotoxin utilizing molecular modeling, bench top synthesis and enzymatic studies.
Leveraging her previous research knowledge, the Biological Macromolecules Laboratory is currently developing and testing a FRET system for a lysin, and enzyme that targets persistent Staphylococcus aureus bacteremia in patients on behalf of one of our clients, with requests to potentially develop other enzymatic detection systems for different targets of the same lysin.
As the Director and Principal Scientist, Karina is also the scientific resource for the other members of the team. She has also been utilized as a resource to research viral inactivation studies as well as novel methods for use in the analytics of other large molecules.
With so much going on in the Biological Macromolecules Laboratory we are thrilled to have Karina, who is an incredible asset to the BA team, driving the research capabilities for the group as well as being a scientific resource for other groups at BA.   She stands alongside so many other talented individuals in the BA labs and we are looking forward to the many projects that will be seen through in the Biological Macromolecules Laboratory under her guidance. 
For interest in the many testing services Boston Analytical offers, click here