Analyzing mRNA samples can be challenging due to the complexity of the Drug Substance intermediates and the final formulated LNP encapsulated Drug Product. These challenges can be even more daunting when trying to manage multiple CDMOs and CROs depending on their areas of expertise. Boston Analytical (BA) has rolled out a comprehensive analytical solution that provides regulatory-tested methodologies for every aspect of characterizing the purity, potency, and identity of mRNA products in a one-stop shop format. Boston Analytical strives to provide characterization services that are tailored to your mRNA manufacturing platform. Phase-appropriate qualification strategies are employed and non-cGMP in-process/scale-up optimization services offerings are available. See how we can help!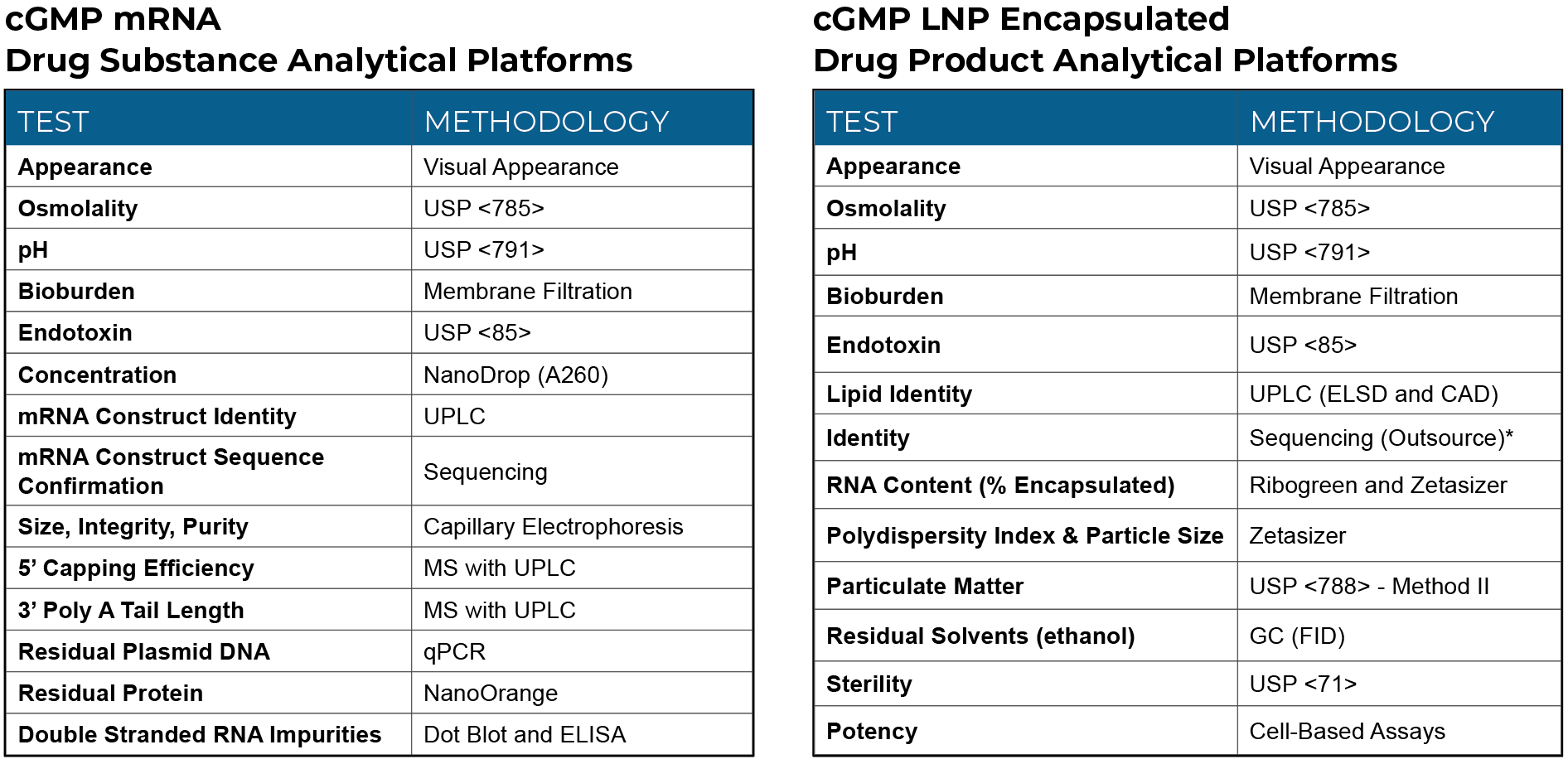 Process Development:
Full cGMP characterization is not always the solution when optimizing In Vitro Transcription and LNP formulation strategies.  Boston Analytical offers a panel of tests critical to the rapid turnaround time you need in a non-cGMP format. Common assays our clients utilize include:
Size, Integrity, and Purity of mRNA constructs via capillary electrophoresis
In Vitro Transcription Concentration via Nanodrop
Impurity analysis (including dsRNA, pDNA, and residual protein)
Polydispersity Index and Particle Size of LNP Formulations
Lipid Identity via UPLC
mRNA Raw Material Testing
Accurate characterization of the raw materials utilized in your In Vitro Transcription (IVT) and Lipid Nano Particle (LNP) Drug Product processes is critical to ensuring impure material does not compromise the integrity of your intended formulation. Boston Analytical specializes in cGMP Raw Material testing through both USP and custom-validated methods. Whether you need help with the clinical phase or commercial release raw material testing, BA can provide the solution.
Stability
Cold chain stability studies are paramount for the stability evaluation of mRNA and LNP-encapsulated Drug Products. BA has extensive -80°C and -20°C stability capacity and specialized critical assay control for cold chain products and freeze-thaw evaluations. In addition to standard stability storage in cGMP-controlled environments, see below for our stability service management areas of expertise.
BA can help you with:
Stability protocol development

     

Commercial Release Studies
Clinical Phase Stability with an emphasis on stability indicating assays
Formulation Development & Optimization
Stability
Freeze Thaw Studies
mRNA Analytics Inquiry Form
Streamline your mRNA Analysis with BA's comprehensive one-stop solution, please complete the form below: