EXTRACTABLES &
LEACHABLES TESTING
EXTRACTABLES & LEACHABLES TESTING
Extractables & Leachables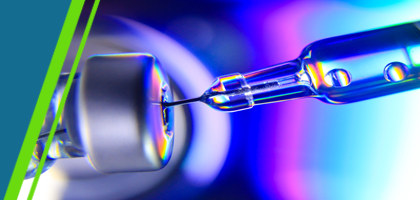 Extractables and leachables (E&L) testing is an FDA required step in filings of drug products or devices to determine what effect the packaging, delivery system, device materials or any other component that interacts with the drug or patient will have on it. Additionally, drug manufacturing systems (single use systems) and components require testing to determine compounds that may leach during the manufacturing process. Results of these tests can provide useful information on how these elements impact human health through toxilogical assessments that will then determine if leachables studies need to be performed.
Extractables Studies
Extractable studies expose the device, container closure system material, or manufacturing component to stressed conditions and extract potential contaminants from the material using heat, multiple solvents and exposure time. Determination of what compounds are present after the extraction is an important step to understand if those extracted compounds pose potential toxilogical harm.
Boston Analytical has experience with material-focused pharmaceutical extractables studies of all forms of drug product packaging, delivery components, processing components, and medical devices including: vials; bottles, caps, and seals; squeeze bottles; metered dose inhalers; process components (filters, bags, tubing); drug delivery pumps (such as for insulin); drug delivery patches; stents; and pre-filled syringes. Our extractables library and database gives us the ability to identify all detected extractables compounds that are above reporting limits.
Pharmaceutical extractables testing is conducted on the material or materials of interest, using neat solvents to extract all potential leachables from each material employed in a package system. Extracts are analyzed to produce a profile of potential leachables. These can include polymer additives, such as antioxidants and plasticizers, dyes, catalysts, or residual manufacturing solvents. The extraction conditions are specific to each drug product and packaging system. The resulting data is used to determine if a formal leachables study is required and correlated to any future leachables data.
Leachables Studies
Leachable studies are designed to identify if the components identified in the extractable study will leach out of a device or container closure system and into a drug product in controlled conditions over time. Secondary packaging such as inks, labels and dyes are often a factor and need consideration in both extractables and leachables testing.
Pharmaceutical leachables testing is performed directly on the drug product or medical device. Final product samples are placed on stability in the packaging, and monitored for any leachables migrating from the packaging. Results are correlated with extractables study results. Any leachables detected are evaluated toxicologically.
Boston Analytical develops and validates methods specifically for the drug product or medical device, which targets the potential leachables identified in the extractables study. Validated methods are employed to test the product on stability, to simulate throughout shelf life.
The deliverable for Boston Analytical's E&L testing includes fully validated, ICH-compliant methods for leachables assessment of the drug product, leachables characterization of stability samples, a full report with all species identified, and toxicological assessment of detected leachables.
The experts in our extractable and leachable testing lab will partner with you to create E&L studies that provide the data needed to identify risk to your drug product or medical device. Following ICH and USP guidance we'll make certain to address all leachables that could affect your product to help you achieve FDA compliance.
Extractables Studies Services
USP <1663>, "Assessment of Extractables Associated with Pharmaceutical Packaging/ Delivery Systems"
USP <661.1>, "Plastic Materials of Construction"
USP <661.2>, "Plastic Packaging Systems for Pharmaceutical Use"
ISO 10993-17, "Allowable Limits for Leachable Substances"
ISO 10993-18, "Biological Evaluation of Medical Devices"
Controlled Extraction Studies
Simulation Studies
Container Closure Testing
Leachables Studies Services
USP <1664>, "Assessment of Drug Product Leachables Associated with Pharmaceutical Packaging / Delivery Systems"
Leachables Method Development and Validation per ICH Guidelines
Toxicological Evaluation
Extractables & Leachables Inquiry Form
If you have a project that requires the expertise and knowledge in Extractables & Leachables that Boston Analytical can provide, please complete the form below: