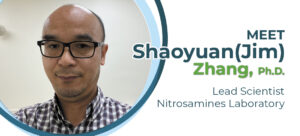 Dr. Zhang has been with Boston Analytical since 2017 and works with the Extractables and Leachables (E&L) department as a senior scientist. He mainly focuses on Identification and quantification of non-volatile organic E&L compounds using LC-MS-TOF. Dr. Zhang also has a lot of experience in special case compounds such as Polyaromatic hydrocarbons (PAHs) and nitrosamines using GC/MS and GC/MS/MS  in his previous career. He developed and validated a nitrosamines screening method with GC/MS/MS for Nitrile/Butyl rubbers, which was presented in E&L conference and widely applied in the Pharmaceutical industry for container and closure package systems. Dr. Zhang obtained his Ph.D. in Environmental Science from Rutgers University and finished his postdoctoral study on Bioaccumulation of contaminants from Superfund site soils. He has presented and published dozens of papers in international Journals and Conferences.
Occurrence of several nitrosamines in some Drug Products in the United States and worldwide has brought attention to the Pharmaceutical industry. Dr. Zhang recently agreed to take the role of lead scientist in the Boston Analytical Nitrosamines Laboratory, leveraging his past experience.  Dr. Zhang is currently working to improve Boston Analytical Nitrosamines testing capabilities by developing a high-efficiency, advanced chromatographic method.
It's clear to see Dr. Zhang is an integral member to not only our E&L Department but also our Nitrosamines Laboratory. We look forward to the many projects that will be seen under Dr. Zhang's leadership!  
For interest in the many other testing services Boston Analytical offers, click here