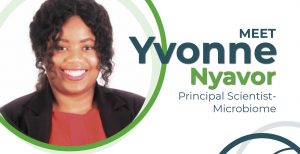 Yvonne has been with Boston Analytical since 2021 and works with the Microbiology Department as the Principal Scientist for Microbiome. In Addition, Yvonne works with Business Development and Client Services, and collaborates with Analytical Development, Raw Materials/Chemistry and Large Molecules on Microbiome related projects. She has a PhD in Neuroscience from the University of Idaho and a bachelor's in biology from the Kwame Nkrumah University of Science and Technology in Ghana. Her PhD and postdoctoral work focused on how the gut microbiome impacts human health.
One of the programs that the Microbiome team is supporting is the development of new assays for live biotherapeutic products advancing beyond Phase 1 and Phase 2. The quantification of viable or live cells in these drug products has traditionally been performed using counts of colony forming units, but products advancing beyond Phase 2 testing need more direct assessments of viability. The Microbiome team is currently developing a PCR based method that provides reliable estimates of the percentage of viable cells in a given drug product.  We also have projects involving the development and validation of cellular based assays for routine and release testing, and measurements of bacterial metabolites that may be involved in the mechanism of action of specified drug products.  
It is easy to say that we have a lot going on in the Microbiome group and Yvonne is such an incredible asset to the BA microbiology team! Look for Yvonne at your next Microbiome or Microbiology meeting, or attend one of her webinars and say hello! She loves meeting people and learning more about how to support their work. 
See Yvonne's next presentation on June 30th at 10am EDT at that 6th Microbiome Drug Development Virtual Conference, on "Working Towards a Regulatory Framework for Microbiome Based Therapeutics: Current Practice and Future Opinion." Click here to register for this conference: https://microbiome-summit.com/take-part/register/
For interest in the many other testing services Boston Analytical offers, click here