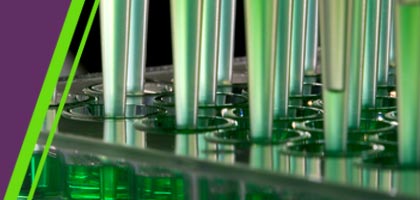 The field of biologics is booming, as more and more therapeutic drug applications for these powerful biopharmaceutical drugs are being created. As biologics becomes more broadly used, the field is becoming increasingly competitive, as well, with manufacturers vying to get more effective treatments to market more quickly — all while meeting crucial regulatory requirements.
For this reason, biologics analysis is a critical part of biologics production. Biologics manufacturers are turning more frequently to biologics testing services partners to carry out these key tasks. Working with a biologics characterization and testing service provider means that you gain the advantage of a partner where these processes are dedicated, core competencies — not add-on processes that must supplement biologics production, as they would be if carried out in-house. A pharmaceutical biologics testing partner offers the experience and agility that you need to get to market quickly and effectively while meeting all regulatory needs.
Boston Analytical offers numerous credentials as a testing service provider for biologics. Our services include the latest in testing equipment and technology, a dedicated testing team, expertise in industry-leading processes and methods, and a broad range of services available.
Because biologics are complex mixtures that must be carefully crafted and cultivated, equally complex and intricate testing is required to help ensure the identity, purity, activity, and structural and conformational integrity of a compound. Biologics are developed on the basis of proteins. Thus, testing methods specific to protein drugs must be enlisted — including peptide mapping, amino acid sequencing, molecular weight measurements, and many more.
Boston Analytical features the capabilities to execute these biologics solutions with speed and expertise, taking the burden off your in-house resources and providing dedicated experience and knowledge to provide you with maximum peace of mind for testing. We offer our services to biologics manufacturers worldwide, and are ready to discuss your testing needs today.
Biologics Inquiry Form
If you have a project that requires the expertise and knowledge in Biologics that Boston Analytical can provide, please complete the form below: